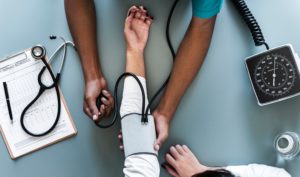 Everyone knows that maintaining an aquarium can be a great hobby that adds beauty to your home or business. But, did you know that aquariums can also make you happier and healthier? Today, the experts at Armco Aquatics, NJ's favorite fish tank builder, review the top 5 health benefits that come from aquariums.
1. Reduces Blood Pressure
Having a fish tank that's stocked with beautiful fish isn't just nice to look at, it's proven to reduce both blood pressure and heart rate. This health benefit is great anywhere but is especially helpful in waiting rooms at doctor's and dentist's offices.
2. Positive Effect on Alzheimer's
In two separate studies, fish tanks were found to be beneficial to those suffering from Alzheimer's. The first study found that watching fish in an aquarium increased the appetites of patients with dementia. The second study found that a fish tank decreased agitation and had a relaxing effect on patients.
3. Helps with Hyperactivity
Beyond an aquarium's relaxing effects, it can also work wonders for kids with ADHD. Taking a moment to watch the aquarium creates a simple diversionary effect, allowing them to break the cycle of a hyperactive period.
4. Reduces Stress
A study following patients waiting to undergo stressful medical procedures had positive findings. They discovered that the presence of an aquarium in the waiting room reduced a patient's self-reported anxiety levels by 12%.
5. Reduces Anxiety
A study from Purdue found that watching a fish tank for just 15 minutes a day stimulates serotonin receptors and increases endorphin production. It's theorized that an aquarium can have the same calming effects that a person can get from taking a walk out in nature. What makes aquariums uniquely equipped to combat anxiety is that they're able to be accessed indoors at any location. This access provides people with the anxiety-reducing benefits of nature even if they're stuck inside.
Hire NJ's Favorite Fish Tank Builder for Your Next Aquarium
Whether you're looking for a residential or commercial installation, Armco Aquatics can help. We have a team of highly-skilled aquarium designers and installation experts that can create your dream aquarium. If you're in NJ or PA, give us a call at 1-877-ARMCO11 or email us to schedule an appointment at our showroom.