Rich Armandi, President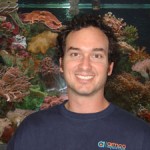 Age : 48
Hometown : Philadelphia, PA
1st Aquarium : 1985: 30-gallon freshwater community
Current Aquarium : In addition to the over 125 customer aquariums I am responsible for, I keep a 230-gallon reef tank at our headquarters in Wilmington, Delaware.
Favorite Aspect of my Work : I have always been called by the oceans. I would watch every Jacques Cousteau TV special when I was growing up and, like most Philadelphia kids, my family vacations to the Jersey Shore were a highlight. I would snorkel in the surf all day long to collect shells. When I was in college in Las Vegas, Nevada, I learned how to SCUBA dive. I took trips to southern California and explored Pacific Kelp forests, then to Catalina Island to swim with the inhabitants like Blue Sharks and Garibaldi Fish. I was hooked and knew I wanted to dedicate my life to the ocean and its creatures. But, I didn't know how. My business has allowed me to follow my dreams and work with these animals on a daily basis. It has been said that we only protect what we love. My job is to promote awareness of the beautiful oceans through the creations of aquariums. Maybe a child who sees one of my aquariums will be inspired to devote his or her life to the aquatic sciences and maybe that child will be instrumental in saving our delicate oceans for the next generations to enjoy.
---
Kevin Kirby, Jr., Technician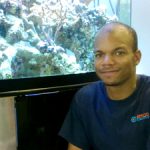 Age : 26
Hometown : Chester, PA
1st Aquarium : 25-gallon freshwater tropical aquarium
Current Aquarium : 55-gallon freshwater tropical aquarium
Favorite Aspect of my Work : I enjoy constantly gaining new knowledge of various fish and corals and getting to share this information with customers.
Enjoy Most about my Job : I get to play with and take care of many types of fish while at the same time meeting new people.
Other Hobbies : In my spare time, I teach Marching Band basics for High School Marching Bands, participate in Drum Corps, and I also enjoy bowling and theatrical musicals.
Favorite Quote : "I yam what I yam," -Popeye
---
Andy Hionides, Aquarium Technician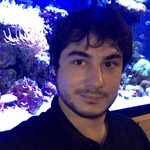 Age : 25
Hometown : Springfield, PA
Current Aquarium : 125Gal mixed reef
Favorite Aspect of my work : I enjoy the biological aspects of aquatic life. I love watching coral, fish, and organisms grow and develop. One of my favorite parts of this job is watching an aquarium mature and sustain itself while populating microscopic and macroscopic marine life. All the colors and geometry that make up these animals is fascinating to me; especially when they are cared for under a growing company.
Other Hobbies : Singer/songwriter, guitar, music enthusiast
---
Mark Riemenschneider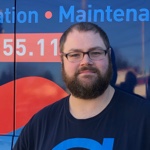 Age : 29
Hometown : Newark, Delaware
1st Aquarium : 10-gallon freshwater community
Current Aquarium : 30-gallon freshwater planted tank
Favorite Aspect of my work : I love to create a window into nature with a tank. I enjoy watching a tank grow into a piece of art and achieve a perfect balance. Watching fish behavior fascinates me. Doing what I do I get to experience many different styles of aquariums and learn more about them first hand.
Hobbies: I love to fish, freshwater, saltwater or fly fish it's all fun to me.