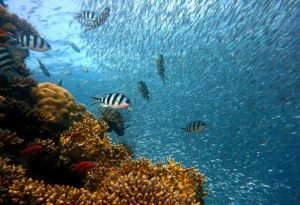 Whether you want an aquarium for your home or office, if you live in Delaware, you need to find the best Delaware aquarium supply. But what do you look for? How do you know you've found the best one? What traits do all the best aquatic companies share? Thankfully, Armco Aquatics is here for you. Every time we install or maintain an aquarium, we put our reputation on the line. And we're not afraid to do that. So, please allow us to show you how Armco Aquatics is the best Delaware aquarium supply.
The Most Comprehensive Delaware Aquarium Supply
First, we provide the most comprehensive services in Delaware. Whether residential or commercial aquariums, we do everything from A to Z. Here's a list of the services we provide:
Design
Consultation
Installation
Maintenance
Moves
While owning an aquarium can be complicated, we handle every aspect of it so you don't have to worry.
Furthermore, we not only provide the most comprehensive services, but we also offer the most comprehensive Delaware aquarium supply in terms of products! Our live stock includes:
Yellow Tangs
Blue/Green Chromis
Flame Angels
Cuban Hogs
Clownfish
And more!
In addition, we sell preowned tanks, plants, decorations, and more. Everything you might imagine you need, we have it.
The Most Knowledgeable Delaware Aquarium Supply
Second, the best aquarium supply stores will have expert staff. There's nothing more frustrating than having to work with a company with incompetent employees. At Armco Aquatics, you don't have to worry about that. As we mentioned, we do it all. You can't provide extensive services like that since 1999 without having skillful and knowledgeable staff. Therefore, if you want to hire the most knowledgeable Delaware aquarium supply, then you need to hire us. Let us prove to you that we know our stuff.
And the Friendliest Too!
Third, you not only want a company with comprehensive supplies and services and knowledge, but also with a friendly staff. The best businesses not only have skilled experts, but also hire the most congenial people available. Accordingly, whether it's consultation, installation, or maintenance, we want to make the process as easy for you as possible. So, we've become renowned for our excellent customer service at every step of the way.
Contact Armco Aquatics Today!
Finally, as you can see, the best choice for a Delaware aquatic supply is Armco Aquatics. So if you want to hire the best for the job, contact us today!