Dreaming of your perfect aquarium? Not seeing the sizes you want available for your space? No need to worry! Armco Aquatics offers custom size aquarium options to help meet the needs of any space in your home or office setting. Standard pet and aquarium stores may not have the size you need, but we do. From design to sizing, we've got it all covered. Since 1999, we've helped hundreds of clients create the perfect aquarium design!
Custom Size Aquarium Creation
Armco Aquatics is your go-to for custom size aquarium displays. If you're interested in a custom aquarium, start with our consultation process. This process includes one-on-one consulting, where we'll learn about your vision for your dream aquarium. We pay attention to the little details that matter, resulting in a stunning custom aquarium design every time. We strive to make each project unique. Once you approve the design, it's time to get started!
Installation of your Custom Size Aquarium
After we've built your perfect custom aquarium, we'll help you install it too. Our attention to detail and superior craftsmanship will shine through in your beautiful new aquarium. During the installation process, we'll make sure your aquarium fits perfectly. Even better, we'll also help educate you on the proper maintenance of your new aquarium to keep it looking great for many years to come.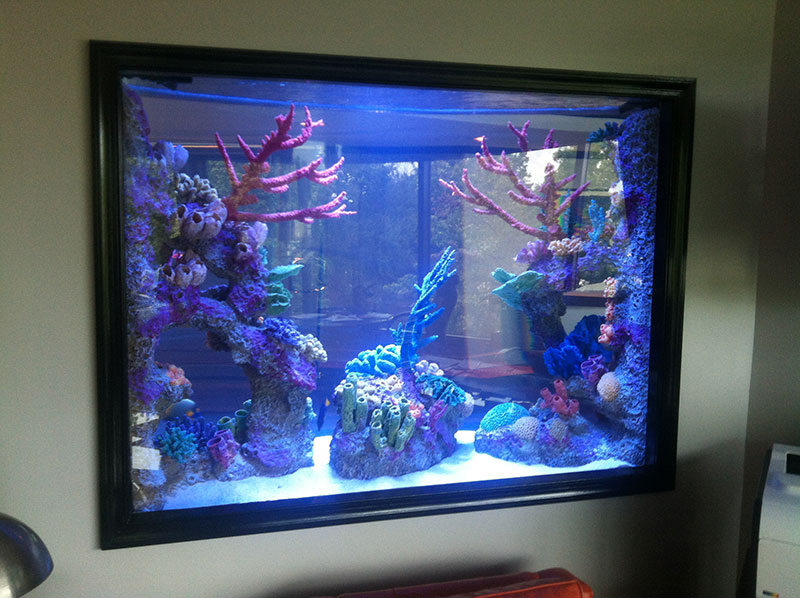 Reasons for a Custom Aquarium
Throughout our years of experience, we've seen and heard it all! People may request a custom size aquarium for dozens of reasons. Perhaps they have a specific vision in mind or maybe they have a space that is tough to fit. Whatever the reason, we enjoy helping you make your perfect design. Adding a custom aquarium can instantly enhance the look and feel of any room, even in commercial settings. Looking at fish might even help to promote relaxation and reduce stress. Give it a try!
Find Out More about the Custom Design Process
Want to learn more about Armco Aquatics custom size aquarium and design process? Ask us questions by calling 1-877-ARMCO11 or completing a form on our website.  Browse our website too to learn more about our services. We look forward to hearing from you.