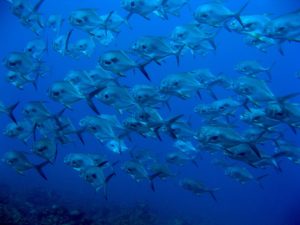 A custom aquarium or fish tank is a wonderful way to brighten up any room in your home or office. Aquariums can add life, movement, and color to your space. In addition to their beauty, aquariums are also pretty fascinating subjects to learn about. Let New Jersey's custom aquarium and fish tank experts at Armco Aquatics school you with these fascinating fish tank facts!
Fascinating Fish Tank Facts
Multiple aquariums are called aquaria and a person who takes care of an aquarium is called an aquarist. At Armco, we've got an awesome team of aquarists who can help with any of your custom aquarium or fish tank needs!
Caring for aquariums first became a popular hobby in the United States in the 1850s. The first aquarium originally housed toy fish.
Even though you can't see their ears, your fishy friends are great listeners. Fish detect sound vibrations with ears inside their body, known as otoliths or "earstones".
The largest aquarium is the Chimelong Ocean Kingdom located in China. It's got 12.87 million gallons of fresh and saltwater aquarium space! For scale, the Camden Adventure Aquarium in New Jersey has 2 million gallons.
The world's smallest aquarium is located in Russia. A cozy home to a few zebrafish, this custom aquarium holds just 2 teaspoons of water!
Gazing at an aquarium has a number of health benefits, including heart rate reduction and mood improvement. Interestingly, high biodiversity within a fish tank leads to even better health benefits. Best of all, improvements can be seen after spending just 5 minutes with your fish tank. With stress reducing qualities like these, a custom aquarium is an ideal addition to any home or office.
According to Feng Shui principles, aquariums can bring you abundance and good luck when it comes to money. For maximum effect, have your custom aquarium installed in either a southeast or northern room other than your bedroom or kitchen. Then, fill your tank with eight goldfish and one black fish.
Looking for a Custom Aquarium or Fish Tank in New Jersey?
New Jersey's Armco Aquatics is a full-service aquarium company that's been installing and maintaining custom aquariums all over New Jersey and the surrounding area since 1999.  Give us a call at 1-877-ARMCO-11 to schedule your consultation and visit our aquarium design center.