Thinking of adding a beautiful corner saltwater aquarium to your home or business? A corner aquarium offers a stunning enhancement to your space that doesn't compromise space. A corner fish tank offers plenty of room for your fish to enjoy, ideal for medium and large fish.
At Armco Aquatics, we have the expertise and years of experience to help you select the best corner saltwater aquarium for your needs. With the addition of a beautiful corner saltwater aquarium, you can create a focal point in your room without taking up much space at all.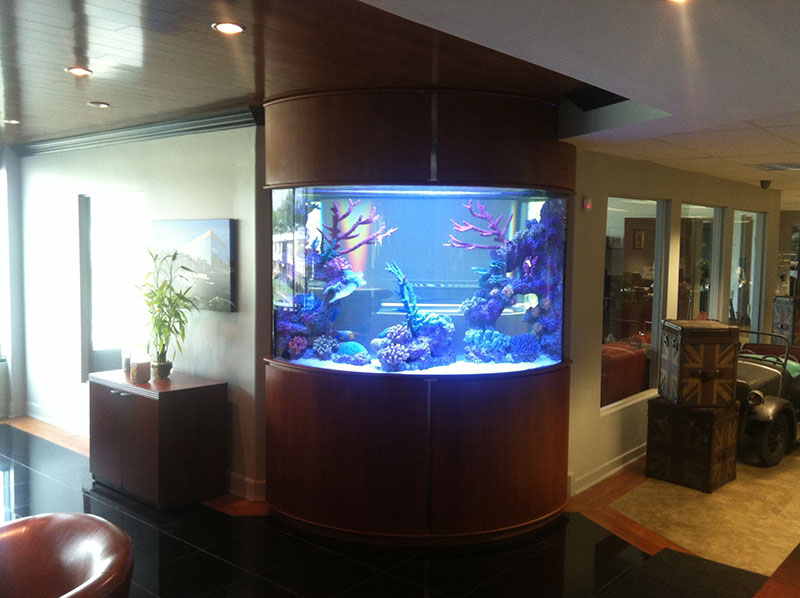 Selecting Your Corner Saltwater Aquarium
Throughout our many years creating custom aquariums for homes and businesses in the tri-state area, we've seen it all! We offer many options for corner saltwater aquariums, ideal for those who do not have the space for a traditional rectangle aquarium. Another great thing about corner aquariums is the ability to see your fish from many angles, creating a unique space.
If you're not sure if a corner saltwater aquarium is for you, speak to our experts. As your premier aquarium service company since 1999, our team of five aquarium experts can provide guidance on the best type of aquarium for your space. We believe it is our duty to help guide our customers to the best of our ability, while also considering the needs of the aquatic life we serve.
Design Your Own Corner Saltwater Aquarium
Corner saltwater aquariums can be customized to any size, offering lots of versatility for many rooms. Choosing the right size tank is important both for the health and safety of your fish and also to ensure the size is appropriate for the room. Our aquatic experts can help you select sizing, as well as consider other important factors such as placement within a room and natural lighting.
What are you waiting for? Help set your home or business space apart with a unique corner saltwater aquarium with Armco Aquatics. Visit our design center or call us to schedule an appointment to work with a design specialist. Your corner saltwater aquarium is only a call away!