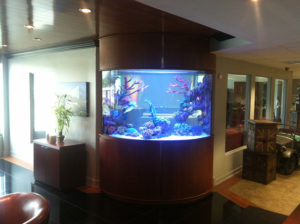 Is that lamp in the corner starting to look a little bland? Do you have an empty corner that needs to be livened up? A corner fish tank might be just what you never knew you needed to fill that space.
Imagine a tall, gleaming acrylic and wood masterpiece making the most of your corner space. Brilliant colors brighten up the room, or perhaps a soft bubbling filter helps to soothe and relax your clients. The subtle flash of danios and tetras or the vibrant presence of cichlids can make it seem like a whole different room.
Whether the plain corner exists in your home or office, our aquatics experts can help turn this space into an amazing custom aquarium.
From Start to Finish, Our Experts are There
You don't have to wait until you've decided exactly what you want to reach out to us. Our design teams can help you work from the ground up. We'll work together to decide the best look to fit into your space, then walk you through saltwater vs freshwater, filtration systems, decorations, and inhabitants.
Once all the decisions are made and you can't wait to get started…well, we'll do just that! Our build teams will start work on your masterpiece before our install team moves everything into place and gets the water flowing. After the tank is deemed safe, we'll gently introduce your new neighbors.
Have a question or concern? Is the filter making an odd humming noise? Give us a call, and we'll get things operating smoothly once again.
Custom aquariums aren't just a sale. They're an ongoing business relationship. As a living ecosystem, your tank will need maintenance as time passes, and we hope you'll give us a ring. After all, we know your aquarium inside and out!
Custom Corner Fish Tank: Serving the Tristate Area Since 1999
A custom fish tank is both a commitment and an investment. We want to make sure that you make the most of your space and have the aquatic life best suited to your chosen environment. We care deeply about all things aquatic, from the structures and machinery to the fish and their friends.
When you are ready for a custom corner fish tank, you know who you can call: Armco Aquatics. We've provided excellent customer service and amazing aquatics to the tristate area since 1999. Will you be our next tank love story? Call us today, and let's talk tanks!