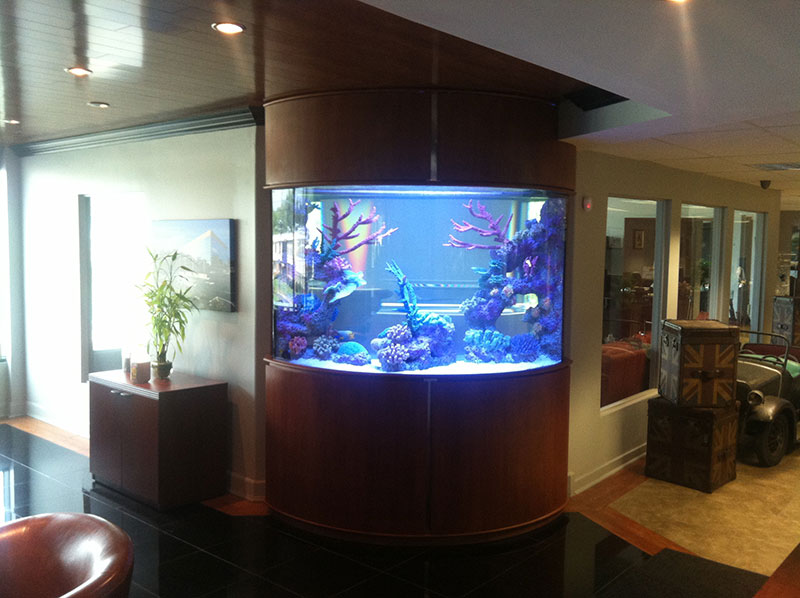 At Armco Aquatics, it's our mission to help our customers bring the beauty and wonder of aquatic life right into their own homes and workplaces. One of the most stylish, inventive and space-efficient ways of doing this is by purchasing a corner fish tank. This is a super fun and exciting process; however, there are some key things to consider when you're looking to buy a corner fish tank. So let's dive into the details and see the 3 tips to getting the perfect tank for you!
Choosing The Right Location
A corner fish tank is perfect for making use of unused corners in your home or office, leaving open wall space free for more conventional things like desks, cupboards, tables, and tvs. It's also an elegant change in interior architecture that is sure to intrigue and inspire. But how do you decide where to put a corner fish tank?
In our experience, the best location for any fish tank is where it is most likely to be appreciated. This typically looks like a well-trafficked living room, an office waiting room, or a lobby. Of course, if you're having trouble choosing the exact location for your tank, the experts at Armco Aquatics are always happy to help with ideal tank placement. 
Budgeting to Buy A Corner Fish Tank
When it comes to choosing a corner fish tank, one of the most important considerations is budget. Installing a tank can get expensive, so deciding on a budget beforehand can be a great way to guide you through the purchasing process. Important questions to ask yourself are: 
How big do I want my tank to be?

What kind of filtration system do I want for my tank?

How many

fish

am I looking to buy?

Am I interested in common or rare species?

What kind of aquatic habitat would I like to create?
Armco Aquatics has over 20 years of experience in customizing and installing fish tanks, so you can rely on our knowledge to help you plot out the perfect tank to fit your budget. 
Measuring Size and Weight
When you decide on the location for your tank, be sure to take accurate measurements; this will help you avoid serious hassle down the road. Remember to include measurements for the tank stand, as the stand will take up a significant amount of space. Another crucial consideration is weight. A standard fish tank, when stocked and filled with water, can weigh over 500 lbs, so it's extremely important that your floor can support the weight.
When taking the plunge and buying a corner fish tank, Armco Aquatics is your number one resource for considering, customizing and installing a tank. Reach out to us today to start your aquatic adventure!