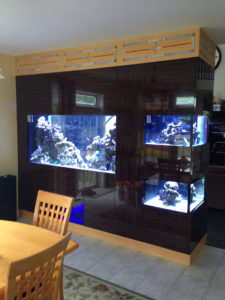 At Armco Aquatics, we love a challenge. When a customer asked us to install a modern fish tank design in their home, we got right to work piecing together the perfect aquarium for their space. They wanted something that was relaxing and peaceful, but that fit into a modern aesthetic. We put together a hypnotic, three-piece aquarium structure that ticked all of their boxes.
Aspects of Modern Fish Tank Design
When it comes to designing custom aquariums, there are a few ways to bring about contemporary look to it. Here are our best tips for ensuring a beautiful modern fish tank design.
Opt for clean, straight lines.

One huge aspect of contemporary design is clean, straight lines, with minimal curving or accents. You can see that the design of this tank involves simple, straight lines.
Go with neutral colors.

There is a place for bright colors in modern design, but when it comes to your aquarium, let the coral and fish steal the show. Encase your aquarium structure with neutral or natural colors to make the aquatic elements really shine.
Keep it minimalist.

No need for extra fluff and fussiness. Stick to the basic geometric shapes and use materials like glass, concrete and metal. Keep the variety of elements and colors to a minimum and you'll be good to go!
Armco Aquatics Can Help Build Your Custom Aquarium
Ready for a beautiful fish tank of your own? We can help. We're the regions best experts in fish tank design and manufacturing, plus care and keeping of aquatic life. Reach out to let us know how we can help you build the aquarium of your dreams. Visits to our fish tank showroom in Wilmington, DE are available by appointment–please email info@armcoaquatics.com or call us at 302-655-1150 to schedule.
Need more fish tank inspiration? Check out our gallery of recent work to get inspired with possibilities for your own space. We work with both residential and commercial properties and have an inventory of pre-owned tanks ready for installation.