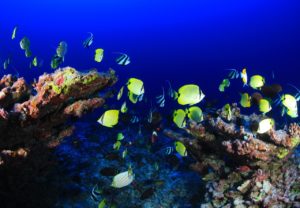 Whether you live at the beach permanently or just visit on weekends, a custom fish tank can make your beach home feel even more connected to the area around you. To enhance that authentic connection to nature, you may want to consider a saltwater aquarium! Whether you're in Ocean City, Sea Isle or Cape May, here are some of the best tips to get started:
Pick the Perfect Location
We recommend choosing a place that gets a lot of foot traffic, like an entryway. Another good option is a place where you spend much of your time, like the living room or kitchen. After all, an aquarium is meant to be enjoyed. Whether you want something standalone or built-in, Armco can design and build it.
Make your Tank Larger than Life
Saltwater aquariums, also known as marine aquariums, have different size requirements than freshwater tanks. To set yourself up for success, it's best to have your saltwater custom fish tank sized at 55 gallons or larger. This may seem counter-intuitive because it seems like a smaller tank would need fewer chemicals, less maintenance and, yes, even less fish.
But here's the deal – when you have a small tank, it's even easier to get your chemical levels out of whack. This means that the health of your fish can decline rapidly in these fast-changing conditions. In a larger tank, changes occur more gradually and give you more time to respond.
Take Care in Sourcing Your Fish
Make sure that you get your saltwater fish from a reputable company. Not only does this help ensure your fish's longevity, but it also promotes humane sourcing. We offer an extensive variety of fish, but if you don't see what you're looking for on our site, don't worry. Just get in touch with us and we'll help you find what you're looking for.
Set up a Maintenance Plan
Do you live at your beach house year-round? Then you'll want to set up a schedule to check the chemical levels, clean the tank and feed the fish. But, if you only visit in the summer or rent out your house part of the time, there's another way. Setting up a maintenance schedule with a professional takes all the guesswork out of your custom fish tank.
If you're looking for a custom fish tank at your beach house, give us a call at 1-877-ARMCO-11 or email us to get started! We proudly serve all the New Jersey shore points, including Ocean City.