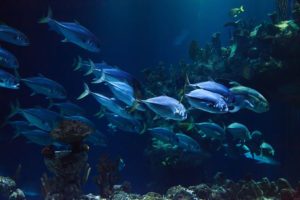 Nothing can enliven and brighten your lobby or waiting room like a gorgeous, full aquarium. Yet, nothing can repulse and disgust someone quite like an unkempt aquarium. What does a clean, lively aquarium say about the business and how its run? What could a dirty one say about the business and how its run? Although your customers and clients may not consciously think those questions, you can bet they respond as if they do. After all, human beings have an automatic response to disgust and aversion. When something grosses us out, we react and want to get away before we even about it. So, if you're looking for commercial aquarium cleaning, allow us to show you why Armco Aquatics is the best choice.
Thorough Commercial Aquarium Cleaning
First, we don't just stick you with a commercial aquarium cleaning one-size-fits-all plan that comes with costs. We come alongside you and develop a maintenance schedule that works for you, your time, and your budget. We're available weekly, biweekly, monthly – whenever you need. Furthermore, the services we provide are nothing short of comprehensive. Every visit includes:
Algae removal
Filter and water changes
Health evaluation
Preventive maintenance on all equipment
Everything from A to Z
Second, Armco Aquatics doesn't just provide maintenance. If you want your commercial aquarium cleaning done right, you need a team who knows the ins and outs of it. Thus, Armco Aquatics does design, consultation, installation, maintenance, and moving. We know the entire business like the back of our hand. Therefore, we know everything involved in keeping your aquarium as clean as possible for years to come.
Experienced and Affable
Third, everyone wants to work with a business staffed by people who know what they're doing, but who are also friendly. Here at Armco Aquatics, we've spent the last 20 years building a reputation for that very thing. Currently maintaining 22,650 (and growing) gallons of aquarium water, we have the experience so you can trust our work. However, if you contact our clients, we know they'll tell you about our staff's open communication and positive demeanor. What more can you ask for?
Commercial Aquarium Cleaning by Armco Aquatics
Finally, if you want your commercial aquarium cleaning done right, look no further than Armco Aquatics. Whatever maintenance you need, we can provide in spades. So please, contact us today!